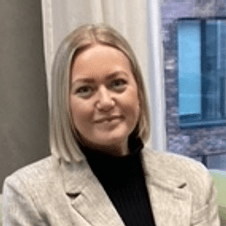 Isabella Fixander
Team Manager – Customer Operations
Hej Isabella! We would love to get to know you better!
What do you do at Telavox?
I work as a Team Manager at the Danish office in Aarhus. My team consists of Customer Support Agents and Customer Success Managers. I try my best to lead them toward good success, and in combination with that and a truly fantastic team, we see really good results in Denmark! Besides my own team, I also lead a Customer Communication Growth Team, where we try to come up with nice stuff to improve our customers' satisfaction. Right now, we are working on a Spring School for our direct customers, so they can learn more and be the best at our product.

Tell us about your alter ego.
My alter ego is just me, with a bit of sparkle.  Give me a glass of wine, and we will be best friends! Let's dance! Let's explore the world together! Let's have some fun!

Where would you like to travel?
I would love to go to Thailand! Explore the culture, eat some excellent food, and chill on a pretty beach with a colorful drink in my hand.

Who would it be if you got to eat dinner with anyone in the world?
MY MOM! Just have some good mother-daughter talk at a nice dinner place.
Tell us about a core memory. 
The very first date with my boyfriend is one of my best memories! Best date ever, and none of us wanted it to end. The sun was shining, we drove around the city on his motorcycle and had a lot of fun, and the rest is history that we are still building on. Like, literally building. Our house is from 1938, and there is a lot of renovating