Sales Development
·
Malmö
Sales Development Representative
Come join us! 📱🚀
We usually respond within two weeks
Vill du jobba med värdeskapande och personlig prospektering på högsta nivå med de senaste metoderna och verktygen? Bygga relationer internt och externt för att med våra kunder ta fram innovativa lösningar och skapa mervärde? Vill du dessutom vara en del av ett riktigt roligt och entreprenörsdrivet mjukvarubolag i tech-världen? Då ska du läsa vidare! 🌎😍
Vårt Sales Development team levererar above and beyond och söker nya kollegor för att fortsätta bidra till Telavox tillväxt!🎉

I rollen som Sales Development Representative (SDR) ansvarar du för att identifiera, kvalificera och kontakta potentiella prospekts och genom en första kontakt inspirera dem att vilja veta mer om Telavox lösning.
Vi som jobbar i teamet idag består av erfarna säljare som värdesätter relationsbyggande med empati, personligt engagemang och relevans. Vi söker dig som vill sälja som oss, och kan bjuda på ny och spännande kompetens inom teamet! 👩‍💻

Som SDR kommer du arbeta med följande:
Strukturerad bearbetning av potentiella kunder och relationer via våra system.
Personliga och relevanta samtal med våra kunder i alla digitala kanaler.
Samarbeta med våra säljare för att tillsammans skapa fler affärsmöjligheter.
Omvandla och kvalificera inkommande leads till försäljningsmöjligheter.
Leda relationer till nästa steg i ett första möte med sälj
Vårda och utveckla leads genom utskick, information, förmedla värde och presentera Telavox lösning.
Håll dig uppdaterad om våra produkter och tjänster, såväl som branschtrender och konkurrenter. Självklart får du även utbildning internt!
Aktivt delta i utbildningar och projekt för att lära dig om de nya och bästa metoderna för att utvecklas inom försäljning.
Det här är vår önskelista:

1-5 års erfarenhet av prospektering, försäljning eller mötesbokning – gärna inom IT-/SaaS-lösningar.
Erfarenhet av att arbeta med CRM-system
God kommunikationsförmåga på svenska och engelska i tal och skrift.
Viljan och drivet att utvecklas i rollen som SDR via ny teknik och system.
Telavox is the place to be! 💚
Since Telavox's journey started in 2002, we have strengthened our position as the leading forward-thinking communication platform for businesses. We offer Telephony, PBX, messaging, meetings, and contact centers in one simple platform. Unlike our competitors, we own our platform and develop everything ourselves in-house.
Today we are a fast-growing and profitable company with +1.3b in revenue and +400 Telavoxers in nine countries. In addition to being part of an entrepreneurial and forward-thinking tech company, we can offer you a warm-hearted culture, legendary kick-offs, competence development, great career opportunities, and lots of fun! 😀


Learn more about what we do! ⬇️
Vill du bli en del av Telavox? Hör av dig! 💌
Vi ser fram emot att höra från dig! Skicka in din ansökan så fort som möjligt! Har du några frågor är du varmt välkommen att maila Hanna Lindkvist på hanna.lindkvist@telavox.com.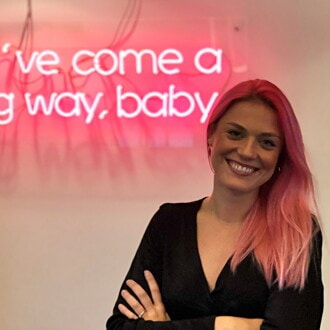 Our Values
Simple

We don't complicate things. We thrive on making products that are easy to use, understand, work with and therefore easy to wow with!

Fun

We believe that mindset and attitude work wonders for us and our customers. If we embrace every opportunity for a good time, wow-experiences will come!

Relevant

We always start with the needs of our customers, and we stay there. We don't speculate, we iterate. Problems can be complicated but solutions have to be simple.
Workplace & Culture
At Telavox we enjoy a lot of great stuff - like laughing, chat a bit too much with colleagues and explore the world together. But we do not like to wait. We have ants in our pants and we like to try on new things all the time. This is a fast changing environment, we do not over-do things - we like to the find next challange instead. Working here is for people who wants to have fun, be creative and who rather ask for forgiveness than permission.
About Telavox
Telavox develops world-leading communications platforms with solutions for smart and efficient telephony, PBX, chat and much more. Regardless of whether it involves an entrepreneur-driven startup or a giant among giants, Telavox contributes to making companies more transparent, efficient and accessible.
Sales Development
·
Malmö
Sales Development Representative
Come join us! 📱🚀
Loading application form
Already working at Telavox?
Let's recruit together and find your next colleague.