Malmö
·
Temporarily Remote
Customer Success Manager
We usually respond within two weeks
Älskar du att hjälpa människor, lösa tekniska problem och är du en stjärna inom kommunikation? Är struktur och ordning dina ledord i livet? Vill du dessutom vara en del av ett riktigt roligt och entreprenörsdrivet mjukvarubolag i tech-världen? Då ska du läsa vidare!

Om jobbet
Som Customer Success Manager (CSM) kommer du att ansvara för hela kundresan utav våra SME kunder. Genom att stötta och guida dem genom vår leveransprocess och proaktivt arbete, säkerställer du att kunden får ut största möjliga värde som Telavox-kund.

Utöver onboarding så kommer du även ha ett stort fokus på att säkerställa att våra kunder har rätt avtalsvillkor samt att de har alla tjänster som de behöver för att kommunicera effektivt med sina kunder.
Du kommer äga din egen kundstock, och jobbar med hela kundens resa med Telavox - från början med leveransprocessen, uppföljande möten med kunden, fram till omförhandling.
Du kommer bl.a. arbeta med:
Att implementera den lösning som våra kunder har köpt
Säkerställa att kundens behov identifieras och leverera det önskade värdet av vår produkt
Att arbeta självständigt och utveckla rutiner samt kravställa på utveckling av våra digitala verktyg
Kontakta dina egna kunder i proaktivt syfte för att säkerställa att upplever värdet av vår produkt
Omförhandla befintliga kunders avtal och säkerställa att kunden har schyssta kommersiella villkor
Utbilda kunder i hur vår tjänst fungerar och hur kunden får ut största möjliga värde från vår tjänst

Om dig
För att trivas och vara framgångsrik i rollen som Customer Success Manager så tror vi att du har störst nytta av din starka vilja att ständigt utvecklas och det faktum att du älskar att testa på och lära dig ny teknik och nya system.
Vi tror att en teknisk bakgrund från utbildning eller arbete, och/eller ett starkt tekniskt intresse är något som är viktigt att ha med sig in i den här rollen. Tidigare arbete i en administrativ roll med flera större arbetsuppgifter och erfarenhet av arbete med CRM-system är också ett plus. Även tidigare erfarenheter inom försäljning kan vara ett stort plus.
Vi tycker det är toppen om du också:
Är strukturerad och vass på att prioritera då det skapar förutsättningar för att kunna vara proaktiv i ditt arbete
Alltid ger ett gott bemötande, god service och därmed bygger långvariga relationer
Är en hjälpsam kollega som vill vara en del av ett team och ha kul på jobbet!
Har arbetat med någon typ av försäljning
Gillar att snacka i telefon och hantera ett tangentbord, både när det gäller svenska och engelska
Genom ditt naturliga sätt att agera och kommunicera så skapar du ett starkt förtroende, trygghet och entusiasm hos våra kunder. Du är nyfiken på dina kunder och deras behov, vilket gör att du är bra på utveckla dialogen och där identifiera kundnytta och underliggande behov. Vilket leder till att du tillför värde för våra kunder! 🤩

Telavox is the place to be!
Since Telavox's journey started in 2002, we have strengthened our position as the leading forward-thinking communication platform for businesses. We offer Telephony, PBX, messaging, meetings, and contact centres in one simple platform. Unlike our competitors, we own our platform and develop everything ourselves in-house.
Today we are a fast-growing and profitable company with +700 m in revenue and +400 Telavoxers in nine countries. In addition to being part of an entrepreneurial and forward-thinking tech company, we can offer you a warm-hearted culture, legendary kick-offs, competence development, great career opportunities, and lots of fun! 😀 Read more about our culture, our employees, and business in our Culture Book.

Är du intresserad av att bli en del av en framgångssaga? Ansök nu!
Vi ser fram emot att höra från dig! Har du några frågor kring rollen eller Telavox är du varmt välkommen att kontakta ansvarig rekryterare Hanna Lindkvist på Hanna.Lindkvist@telavox.com
Locations

Remote status

Temporarily Remote
We usually respond within two weeks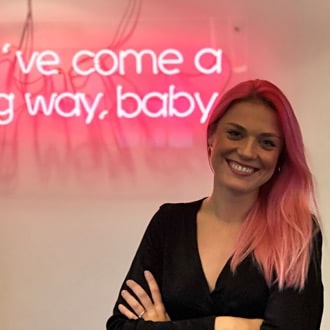 Related jobs
Our Values
Simple

We don't complicate things. We thrive on making products that are easy to use, understand, work with and therefore easy to wow with!

Fun

We believe that mindset and attitude work wonders for us and our customers. If we embrace every opportunity for a good time, wow-experiences will come!

Relevant

We always start with the needs of our customers, and we stay there. We don't speculate, we iterate. Problems can be complicated but solutions have to be simple.
Workplace & Culture
At Telavox we enjoy a lot of great stuff - like laughing, chat a bit too much with colleagues and explore the world together. But we do not like to wait. We have ants in our pants and we like to try on new things all the time. This is a fast changing environment, we do not over-do things - we like to the find next challange instead. Working here is for people who wants to have fun, be creative and who rather ask for forgiveness than permission.
About Telavox
Telavox develops world-leading communications platforms with solutions for smart and efficient telephony, PBX, chat and much more. Regardless of whether it involves an entrepreneur-driven startup or a giant among giants, Telavox contributes to making companies more transparent, efficient and accessible.
Already working at Telavox?
Let's recruit together and find your next colleague.