Elevplads på Telavox
We usually respond within two weeks
Vil du arbejde på Aarhus måske sjoveste arbejdsplads?
Vil du have en elevplads med variation og højt til loftet, hvor du arbejder med administration, service og teknologi? Fedt, så har vi jobbet til dig!
Om jobbet
Vi tilbyder en elevtid i en spændende afdeling med mange forskellige opgaver og udfordringer. Du vil blive tilknyttet en elevansvarlig, som også vil være din primære mentor i afdelingen, men du vil i høj grad også selv få ansvar for dine opgaver, tid og prioriteringer.
Vi søger lige nu to elever, en til administrative opgaver og en til teknisk/ kundesupport.
Administrativ to-do liste:
Lave fuldmagter til kunder
Dialog med kunder, Advisor/Partner og operatører
Simkort håndtering
Arbejde i vores backend system
Starte porteringer op
Sikre porteringer bliver godkendt til leverance dato
Svare på udporteringer
Teknisk/ kundesupport to-do liste:
Besvar indgående opkald og e-mails fra vores erhvervskunder
Håndtere vores kunders sager og ønsker i vores interne sagsbehandlingssystem
Eskaler teknisk komplekse sager til vores in-house 2nd line tekniske support
Giv vores kunder den bedste service!
Støt dine kolleger med ærinder/opkald
Telavox is the place to be!
Siden Telavox' rejse begyndte i 2002, har vi styrket vores position som den mest fremtids tænkende kommunikationsplatform for virksomheder! I modsætning til vores konkurrenter ejer vi vores platform og udvikler alt selv. Det er vi meget stolte af! Vi tilbyder telefoni, PBX-tjenester, chat, møder og kontaktcentre i en enkelt simpel platform.
I dag er vi en hurtigt voksende og profitabel virksomhed med omkring 300 Telavoxere i ni lande! Udover at være en del af en iværksætterorienteret og sjov tech-virksomhed, kan vi tilbyde dig legendariske kick-offs, en varmhjertet og rummelig kultur, kompetenceudvikling og en rigtig sjov arbejdsplads! 😊
Hos os er alle velkomne, og vores forskelligheder er nødvendige for fortsat at kunne udvikle vores produkt, vores kunder og vores organisation! Læs mere om vores kultur, vores medarbejdere og forretning i vores Culture Book.
Er du interesseret i at blive en del af Telavox? Ansøg nu!
Vi ser virkelig frem til at høre fra dig! Send din ansøgning hurtigst muligt. Hvis der er spørgsmål, venligst kontakt Team Manager, Isabella Fixander på isabella.fixander@telavox.dk eller tlf. 33600033
Locations

Remote status

Hybrid Remote
We usually respond within two weeks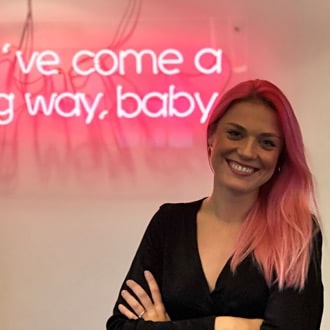 Related jobs
Our Values
Simple

We don't complicate things. We thrive on making products that are easy to use, understand, work with and therefore easy to wow with!

Fun

We believe that mindset and attitude work wonders for us and our customers. If we embrace every opportunity for a good time, wow-experiences will come!

Relevant

We always start with the needs of our customers, and we stay there. We don't speculate, we iterate. Problems can be complicated but solutions have to be simple.
Workplace & Culture
At Telavox we enjoy a lot of great stuff - like laughing, chat a bit too much with colleagues and explore the world together. But we do not like to wait. We have ants in our pants and we like to try on new things all the time. This is a fast changing environment, we do not over-do things - we like to the find next challange instead. Working here is for people who wants to have fun, be creative and who rather ask for forgiveness than permission.
About Telavox
Telavox develops world-leading communications platforms with solutions for smart and efficient telephony, PBX, chat and much more. Regardless of whether it involves an entrepreneur-driven startup or a giant among giants, Telavox contributes to making companies more transparent, efficient and accessible.
Already working at Telavox?
Let's recruit together and find your next colleague.