Sales Development Representative
We usually respond within two weeks
Telavox er Nordens førende XCaaS-løsning, og vi fortsætter for at håndtere den vækst-rejse vi er på har vi brug for et ekstra talent på det danske hold!
Derfor søger vi endnu en Sales Development Representatives (SDR) til vores fantastiske kontor i Århus.
Vil du arbejde med værdiskabende og personaliseret salgsprospektering på højeste niveau med de nyeste metoder og værktøjer? Skabe relationer både internt og eksternt for at udvikle innovative løsninger til vores kunder? Vil du være en del af en spændende, energisk softwarevirksomhed med stærk iværksætterånd? Så se hér!
Som SDR har du den første, outbound kontakt med potentielle kunder, som du identificerer, kvalificerer og inspirerer til at lære mere om Telavox' løsninger.
SDR-rollen er under fantastisk udvikling, og Telavox er i den absolutte frontlinje i Europa. Værktøjerne og mulighederne er mange, og vi tester samt optimerer konstant vores måde at skabe nye salgsmuligheder.
Vores team består i dag af erfarne salgsudviklere som sætter pris på at bygge relationer op gennem empati, personlig forpligtelse og relevans. Vi leder efter dig der være med på rejsen og og som kan bidrage med ny og spændende erfaring!
Som SDR vil arbejde med følgende opgaver:
Struktureret udvikling af potentielle kunder og relationer gennem vores systemer.
Personaliserede og relevante samtaler med vores kunder på tværs af kanaler.
Samarbejde med interne stakeholders for at samskabe flere salgsmuligheder
Flytte opbyggede relationer videre via et første møde sammen med kollegaer i vores salgsafdeling.
Opbygge din lead-portefølje, udvikle dem via præsentation af Telavox over flere kanaler – mail, telefon, LinkedIn, video etc.
Holde dig opdateret på vores produkter og tjenester, industri tendenser og konkurrenter. Du får selvfølgelig løbende intern træning!
Deltage aktivt i træning og projekter for at lære om de seneste og bedste metoder inden for salgsudvikling
Vores ønskeseddel:

Bachelor- eller lignende uddannelsesgrad
Erfaring med salgs-prospektering, salg eller mødebooking - helst inden for IT- og SaaS-løsninger
B2B salgserfaring
Erfaring med at arbejde i CRM-systemer
Stærke kommunikationskompetencer på både dansk og engelsk i både skrift og tale.
Vilje og motivation til at udvikle SDR-rollen gennem ny teknologi og systemer.
Telavox is the place to be!
Since Telavox's journey started in 2002, we have strengthened our position as the leading forward-thinking communication platform for businesses. We offer Telephony, PBX, messaging, meetings, and contact centres in one simple platform. Unlike our competitors, we own our platform and develop everything ourselves in-house.
Today we are a fast-growing and profitable company with +700 m in revenue and +360 Telavoxers in nine countries. In addition to being part of an entrepreneurial and forward-thinking tech company, we can offer you a warm-hearted culture, legendary kick-offs, competence development, great career opportunities, and lots of fun! 😀 Read more about our culture, our employees, and business in our Culture Book.

Er du interesseret i at blive en del af Telavox og vores SDR Team.
Send din ansøgning nu!
Vi ser frem til at høre fra dig! Send din ansøgning så hurtigt som muligt. Skulle du have spørgsmål er du velkommen til at kontakte vores HR Business Partner, Hanna Lindkvist på hanna.lindkvist@telavox.com
Locations

Remote status

Flexible Remote
We usually respond within two weeks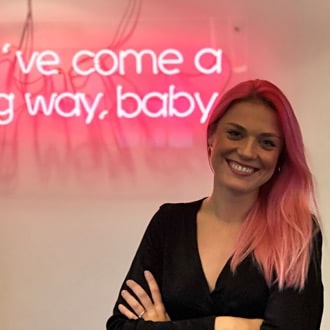 Related jobs
Our Values
Simple

We don't complicate things. We thrive on making products that are easy to use, understand, work with and therefore easy to wow with!

Fun

We believe that mindset and attitude work wonders for us and our customers. If we embrace every opportunity for a good time, wow-experiences will come!

Relevant

We always start with the needs of our customers, and we stay there. We don't speculate, we iterate. Problems can be complicated but solutions have to be simple.
Workplace & Culture
At Telavox we enjoy a lot of great stuff - like laughing, chat a bit too much with colleagues and explore the world together. But we do not like to wait. We have ants in our pants and we like to try on new things all the time. This is a fast changing environment, we do not over-do things - we like to the find next challange instead. Working here is for people who wants to have fun, be creative and who rather ask for forgiveness than permission.
About Telavox
Telavox develops world-leading communications platforms with solutions for smart and efficient telephony, PBX, chat and much more. Regardless of whether it involves an entrepreneur-driven startup or a giant among giants, Telavox contributes to making companies more transparent, efficient and accessible.
Already working at Telavox?
Let's recruit together and find your next colleague.