Sales Manager
We usually respond within two weeks
Telavox is the number one UCaaS player in the Nordics (and soon the rest of Europe), and as our growth journey continues, we are now hiring a Sales Manager to lead our Field Sales team that is located and spread out in Sweden! This is the dream job for someone who wants to join a really fun company, and take on an important role focusing on leadership and contributing to Telavox growth!
About the job
As Sales Manager at Telavox you will be leading our Midmarket team consisting of five sales executives spread out in Malmö, Jönköping, Nyköping and Norrköping. Telavox Midmarket team is responsible for new business sales within the Mid Market segment, companies with 70-350 employees. 

This is your to-do list:

Supporting Sales 
- Value Based Sales is our Methodology.
- Co-visit potential customers with your staff.
- Educate and support your staff.
- Run monthly WinRoom meetings with the sales team and ensure a healthy pipeline.
- Plan and execute the daily work schedule
Recruitment & Onboarding
- Screening and interviews
- Final decision
- Preparing and leading introduction of new employee
Report
- Follow up activity and progress of your staff and plan changes and coaching
Search for new ways to do business
- Harvest on inbound leads, SDR leads and with your regional knowledge and network and vertical knowledge you try to find new business opportunities.

About you
The right candidate for this role and Telavox is skilled in new business development and solution selling, and thrives in a role with focus on generating sales and driving engagement within a team!

You have at least 3 years' of experience from a sales leader position within Telecom, and/or SaaS, and preferably a relevant academic degree. You have extensive relationships with Mid Market customers in Sweden and a good understanding of the industry.

You have a strategic mindset with a focus on execution, combined with a hands-on mentality to facilitate further growth. You know how to motivate and drive engagement within a sales team and you thrive in a dynamic organization with high paced working days. You have a great ability to create customer relations, manage complex sales processes and an eagerness to always perform great results and win together with the team!

Telavox is the place to be!
Since Telavox's journey started in 2002, we have strengthened our position as the leading forward-thinking communication platform for businesses. We offer Telephony, PBX, messaging, meetings, and contact centers in one simple platform. Unlike our competitors, we own our platform and develop everything ourselves in-house.
Today we are a fast-growing and profitable company with +700 m in revenue and +360 Telavoxers in nine countries. In addition to being part of an entrepreneurial and forward-thinking tech company, we can offer you a warm-hearted culture, legendary kick-offs, competence development, great career opportunities, and lots of fun! 😀 Read more about our culture, our employees, and business in our Culture Book.
Are you interested in becoming part of Telavox? Apply now!
We look forward to hearing from you! Send your application as soon as possible. If there are any questions, please contact our Recruiter Hanna Lindkvist at Hanna.Lindkvist@telavox.com

Locations

Remote status

Flexible Remote
We usually respond within two weeks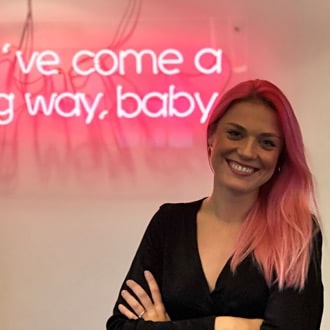 Related jobs
Our Values
Simple

We don't complicate things. We thrive on making products that are easy to use, understand, work with and therefore easy to wow with!

Fun

We believe that mindset and attitude work wonders for us and our customers. If we embrace every opportunity for a good time, wow-experiences will come!

Relevant

We always start with the needs of our customers, and we stay there. We don't speculate, we iterate. Problems can be complicated but solutions have to be simple.
Workplace & Culture
At Telavox we enjoy a lot of great stuff - like laughing, chat a bit too much with colleagues and explore the world together. But we do not like to wait. We have ants in our pants and we like to try on new things all the time. This is a fast changing environment, we do not over-do things - we like to the find next challange instead. Working here is for people who wants to have fun, be creative and who rather ask for forgiveness than permission.
About Telavox
Telavox develops world-leading communications platforms with solutions for smart and efficient telephony, PBX, chat and much more. Regardless of whether it involves an entrepreneur-driven startup or a giant among giants, Telavox contributes to making companies more transparent, efficient and accessible.
Already working at Telavox?
Let's recruit together and find your next colleague.